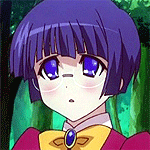 Vital Character Statistics
Name: Suiran Fou
Series: Ladies versus Butlers!
Ranking: 8.20 Vote Count: 254
Last vote: November 16, 2018 7:38:14 AM MST with a vote of 8
Detailed Statistics
Ranking Position:
Serieswide: 6th of 12 characters
Sitewide: 178th of 2,547 characters
Vote Count Position:
Serieswide: 5th of 12 characters
Sitewide: 95th of 2,547 characters
Database Presence:
Entered in database:
November 11, 2010 7:35:00 PM MST (8 years, 27 days)
Description
Suiran is an old friend of Selnia's. Somewhat quiet and unassuming, Suiran enjoys wearing Chinese clothing and occasionally uses Chinese words as well.