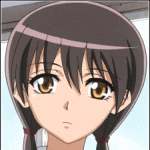 Vital Character Statistics
Name: Suzuna Ayuzawa
Series: Maid Sama!
Ranking: 5.68 Vote Count: 50
Last vote: June 4, 2017 4:13:38 AM MST with a vote of 2
Detailed Statistics
Ranking Position:
Serieswide: 4th of 8 characters
Sitewide: 1,397th of 2,547 characters
Vote Count Position:
Serieswide: 2nd of 8 characters
Sitewide: 184th of 2,547 characters
Database Presence:
Entered in database:
November 17, 2011 7:45:42 PM MST (6 years, 2 months, 3 days)
Description
Suzuna is Misaki's pigtailed younger sister. Unlike Misaki, Suzuna is generally quiet and reserved, though somewhat eccentric. Her lack of energy makes her come off as apathetic, even in regards to the things she does care about. Being too young to get a part time job to help with finances, she relentlessly enters magazine contests, often winning food prizes.