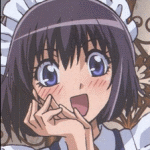 Vital Character Statistics
Name: Satsuki Hyoudou
Series: Maid Sama!
Ranking: 5.45 Vote Count: 11
Last vote: June 9, 2018 7:53:23 AM MST with a vote of 8
Detailed Statistics
Ranking Position:
Serieswide: 6th of 8 characters
Sitewide: 1,574th of 2,547 characters
Vote Count Position:
Serieswide: 5th of 8 characters
Sitewide: 418th of 2,547 characters
Database Presence:
Entered in database:
November 17, 2011 7:45:42 PM MST (6 years, 11 months)
Description
Satsuki is the manager of Maid Latte, the maid cafe where Misaki works. Occasionally despairing at the fact that she's thirty, Satsuki often acts out her fantasies, usually spurred on by the tension between Usui and Misaki. Clasping her hands together, she is known to shout 'Ah, the flowers of moe!' while losing herself in a daydream.