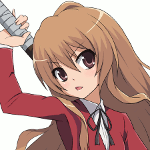 Vital Character Statistics
Name: Taiga Aisaka
Series: Toradora!
Ranking: 7.49 Vote Count: 131
Last vote: May 23, 2018 9:50:39 AM MST with a vote of 9
Detailed Statistics
Ranking Position:
Serieswide: 2nd of 7 characters
Sitewide: 440th of 2,547 characters
Vote Count Position:
Serieswide: 1st of 7 characters
Sitewide: 145th of 2,547 characters
Database Presence:
Entered in database:
December 18, 2012 6:20:46 PM MST (5 years, 9 months, 30 days)
Description
Taiga, 'The Palmtop Tiger', is a beautiful girl with a well-regulated appearance... and an attitude that doesn't match in the slightest. Short of stature and under-developed in other areas as well, Taiga's developed a complex and negative attitude that only serves to feed into her nickname even more. Easily upset, brutally honest, and quick to turn down anyone, Taiga's not exactly the ideal girl. Indeed, she seems to have very few friends at all, one of which is Minori Kushieda, a fact that serves as a hindrance as well as a boon for one Ryuji Takasu, after he incurs the wrath of the Taiga.