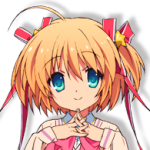 Vital Character Statistics
Name: Komari Kamikita
Series: Little Busters!
Ranking: 6.00 Vote Count: 5
Last vote: September 16, 2015 5:28:34 AM MST with a vote of 8
Detailed Statistics
Ranking Position:
Serieswide: 7th of 9 characters
Sitewide: 1,059th of 2,547 characters
Vote Count Position:
Serieswide: 6th of 9 characters
Sitewide: 617th of 2,547 characters
Database Presence:
Entered in database:
May 12, 2013 11:02:30 AM MST (4 years, 15 days)
Description
Komari is one of Riki's classmates. She is a particularly girly girl, interested in fairy tales and sweets, and her talent for spreading happiness to others is a constant source of positive energy for the group. Komari can come across as an airhead, but is in fact accomplished in her studies and adept at gauging the hearts of others.