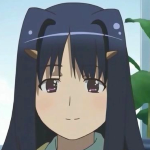 Vital Character Statistics
Name: Takako Kakuzawa
Series: Gakuen Utopia Manabi Straight!
Ranking: 7.00 Vote Count: 1
Last vote: July 23, 2016 3:22:07 PM MST with a vote of 7
Detailed Statistics
Ranking Position:
Serieswide: 4th of 6 characters
Sitewide: 593rd of 2,547 characters
Vote Count Position:
Serieswide: 2nd of 6 characters
Sitewide: 2,258th of 2,547 characters
Database Presence:
Entered in database:
July 23, 2016 3:16:50 PM MST (2 years, 6 months, 23 days)
Description
Takako is the student council president of Aikoh High School, Seioh's sister school. Her appearance and demeanor match what one would expect from a student council president much more than Manami's do, and as a result, Mika and company look up to her as a role model. Though coming from a school in a much better financial and organizational situation than Seioh, Takako finds she has things to learn about school life from Manami.