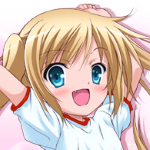 Vital Character Statistics
Name: Maho Misawa
Series: Ro-Kyu-Bu!
Ranking: 7.00 Vote Count: 1
Last vote: October 13, 2016 4:49:24 PM MST with a vote of 7
Detailed Statistics
Ranking Position:
Serieswide: 6th of 13 characters
Sitewide: 597th of 2,547 characters
Vote Count Position:
Serieswide: 2nd of 13 characters
Sitewide: 2,261st of 2,547 characters
Database Presence:
Entered in database:
October 13, 2016 4:44:33 PM MST (2 years, 6 months, 10 days)
Description
Maho is a sixth grader and a power forward on the girls' basketball team. She possesses nearly boundless enthusiasm for having fun and being with her friends, and is thankful to Tomoka for showing her the joys of basketball. Maho is always the first to advocate ideas that embarrass the other girls (particularly in front of Subaru) out of a sense of fun, but her strong emotions can backfire on her when she is faced with loss or disappointment.