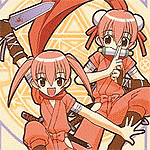 Vital Character Statistics
Name: Fuuka and Fumika Narutaki
Series: Negima!
Ranking: 6.67 Vote Count: 3
Last vote: April 19, 2016 12:04:45 AM MST with a vote of 10
Detailed Statistics
Ranking Position:
Serieswide: 5th of 14 characters
Sitewide: 848th of 2,547 characters
Vote Count Position:
Serieswide: 8th of 14 characters
Sitewide: 1,209th of 2,547 characters
Database Presence:
Entered in database:
June 24, 2006 2:36:00 PM MST (12 years, 3 months, 23 days)
Description
Fuuka and Fumika are twin sisters who are nearly inseparable. The ponytailed Fuuka is the mischievous older sister and Fumika is the slighly more cautious younger sister. Both of them are full of energy and love to explore the school by fulfilling their duties as members of the Strolling Club.