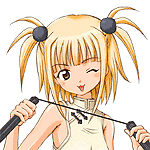 Vital Character Statistics
Name: Fei Ku
Series: Negima!
Ranking: 7.33 Vote Count: 3
Last vote: March 10, 2016 9:52:16 PM MST with a vote of 10
Detailed Statistics
Ranking Position:
Serieswide: 3rd of 14 characters
Sitewide: 477th of 2,547 characters
Vote Count Position:
Serieswide: 8th of 14 characters
Sitewide: 1,209th of 2,547 characters
Database Presence:
Entered in database:
June 24, 2006 2:36:00 PM MST (12 years, 3 months, 23 days)
Description
Fei Ku is a Chinese martial arts champion and one of the five members of the 'Baka Rangers', who all have poor grades. Her passion for fighting means she practices every day, hoping she can become as strong as Mana and Kaede, fellow classmates and martial artists.