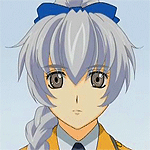 Vital Character Statistics
Name: Teletha Testarossa
Series: Full Metal Panic!
Ranking: 6.96 Vote Count: 27
Last vote: June 16, 2017 3:35:17 PM MST with a vote of 10
Detailed Statistics
Ranking Position:
Serieswide: 6th of 8 characters
Sitewide: 755th of 2,547 characters
Vote Count Position:
Serieswide: 4th of 8 characters
Sitewide: 273rd of 2,547 characters
Database Presence:
Entered in database:
May 23, 2010 2:43:05 PM MST (8 years, 4 months, 25 days)
Description
Teletha, nicknamed 'Tessa', is the Captain of the Tuatha de Danaan, a sophisticated submarine in the forces of Mithril. A girl of a mere sixteen years, her diminutive and clumsy nature make her seem unfit for duty, but her intelligence and strategic skills validate her position. Her crewmembers almost think of her as an idol, and she has faith in all of them.