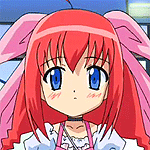 Vital Character Statistics
Name: Maimai
Series: My Santa!
Ranking: 3.00 Vote Count: 4
Last vote: September 18, 2018 2:14:12 AM MST with a vote of 1
Detailed Statistics
Ranking Position:
Serieswide: 3rd of 3 characters
Sitewide: 2,438th of 2,571 characters
Vote Count Position:
Serieswide: 1st of 3 characters
Sitewide: 1,003rd of 2,571 characters
Database Presence:
Entered in database:
September 19, 2010 11:10:36 AM MST (8 years, 12 months, 1 day)
Description
Maimai is Mai's younger sister. She is very young, small, and rarely shows emotion except when provoked. Her voracious appetite is matched only by Sharry's. Maimai is a stumbling block in Sharry's plan to get Mai and Santa alone together, and Sharry's attempts to remove her from the equation usually result in violence on Maimai's part.