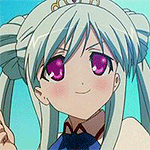 Vital Character Statistics
Name: Pina Suforumukuran Estoh
Series: Ladies versus Butlers!
Ranking: 8.05 Vote Count: 258
Last vote: July 31, 2019 10:20:46 PM MST with a vote of 10
Detailed Statistics
Ranking Position:
Serieswide: 7th of 12 characters
Sitewide: 248th of 2,571 characters
Vote Count Position:
Serieswide: 3rd of 12 characters
Sitewide: 77th of 2,571 characters
Database Presence:
Entered in database:
November 11, 2010 7:35:00 PM MST (11 years, 7 months, 17 days)
Description
Pina is the princess of a small country who transferred to the academy not for its prowess, but because it was in Japan - she's a huge fan of anime. A proud otaku, Pina finds it contemptible that her peers at the academy excel at culture yet have no knowledge of the current anime. She spends most of the time with the school's principal who is also an anime fan.