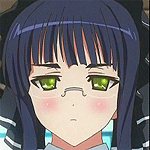 Vital Character Statistics
Name: Mikan
Series: Ladies versus Butlers!
Ranking: 8.37 Vote Count: 256
Last vote: December 19, 2018 1:59:04 PM MST with a vote of 8
Detailed Statistics
Ranking Position:
Serieswide: 4th of 12 characters
Sitewide: 149th of 2,571 characters
Vote Count Position:
Serieswide: 6th of 12 characters
Sitewide: 105th of 2,571 characters
Database Presence:
Entered in database:
November 11, 2010 7:35:00 PM MST (11 years, 7 months, 15 days)
Description
As the head instructor of the academy, Mikan is charged with keeping the students in line. However, Mikan's main focus tends to be reprimanding Kaede and preventing her from treating everything as anime or a game. Strict and formal, Mikan's iron rule causes the students to respect and fear her authority, even making Kaede afraid of her.