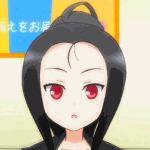 Vital Character Statistics
Name: Maya Oshiro
Series: Ai Mai! Moe Can Change!
Ranking: 3.50 Vote Count: 2
Last vote: January 7, 2013 9:14:40 AM MST with a vote of 3
Detailed Statistics
Ranking Position:
Serieswide: 6th of 6 characters
Sitewide: 2,369th of 2,571 characters
Vote Count Position:
Serieswide: 5th of 6 characters
Sitewide: 1,707th of 2,571 characters
Database Presence:
Entered in database:
September 23, 2012 1:47:49 PM MST (7 years, 4 months, 29 days)
Description
Maya is an employee of the AMB Company and Hakase's boss. Her red eyes accurately reflect her short temper - particularly with Hakase, who Maya often sees as goofing off rather than working seriously, but she is always willing to give Hakase another chance.