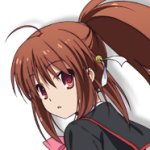 Vital Character Statistics
Name: Rin Natsume
Series: Little Busters!
Ranking: 7.23 Vote Count: 13
Last vote: June 26, 2017 1:05:25 PM MST with a vote of 8
Detailed Statistics
Ranking Position:
Serieswide: 4th of 9 characters
Sitewide: 573rd of 2,571 characters
Vote Count Position:
Serieswide: 3rd of 9 characters
Sitewide: 394th of 2,571 characters
Database Presence:
Entered in database:
May 12, 2013 11:02:30 AM MST (6 years, 9 months, 9 days)
Description
Rin is one of the original members of the Little Busters. She is an athletic and straightforward girl but is almost cripplingly shy around strangers and others not already in her group of friends. Rin identifies with and prefers the company of the large group of stray cats she attends to when she is not fighting with Masato or her rival Sasami.