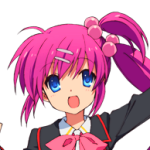 Vital Character Statistics
Name: Haruka Saigusa
Series: Little Busters!
Ranking: 6.80 Vote Count: 10
Last vote: July 20, 2020 12:30:08 PM MST with a vote of 6
Detailed Statistics
Ranking Position:
Serieswide: 5th of 9 characters
Sitewide: 893rd of 2,571 characters
Vote Count Position:
Serieswide: 4th of 9 characters
Sitewide: 487th of 2,571 characters
Database Presence:
Entered in database:
May 12, 2013 11:02:30 AM MST (9 years, 6 months, 21 days)
Description
Haruka is a student in Riki's school. Nearly always full of mischievous energy, she spends a lot of time setting traps or playing practical jokes on others - particularly Masato. Haruka claims to be a liar (though her lies are usually transparent) and her many transgressions of school rules have made her a target for Kanata, the president of the disciplinary committee.