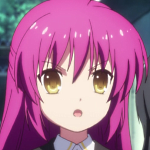 Vital Character Statistics
Name: Kanata Futaki
Series: Little Busters!
Ranking: 5.50 Vote Count: 10
Last vote: September 19, 2015 6:44:53 AM MST with a vote of 6
Detailed Statistics
Ranking Position:
Serieswide: 8th of 9 characters
Sitewide: 1,563rd of 2,571 characters
Vote Count Position:
Serieswide: 4th of 9 characters
Sitewide: 488th of 2,571 characters
Database Presence:
Entered in database:
May 12, 2013 11:02:30 AM MST (9 years, 10 months, 19 days)
Description
Kanata is the president of the disciplinary committee at Riki's school. Known for her uncompromising attitude and enforcement of rules and regulations, she is not widely liked but usually feared. Kanata is almost never seen without a scowl on her face, and her frustration with Haruka's chronic rule-breaking puts the two in constant conflict.