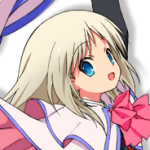 Vital Character Statistics
Name: Kudryavka Noumi
Series: Little Busters!
Ranking: 7.73 Vote Count: 15
Last vote: July 20, 2020 12:29:08 PM MST with a vote of 7
Detailed Statistics
Ranking Position:
Serieswide: 3rd of 9 characters
Sitewide: 380th of 2,571 characters
Vote Count Position:
Serieswide: 2nd of 9 characters
Sitewide: 375th of 2,571 characters
Database Presence:
Entered in database:
May 12, 2013 11:02:30 AM MST (10 years, 4 months, 21 days)
Description
Kudryavka is one of Riki's classmates. Her petite stature and childish body may be sources of insecurity for her, but her optimistic personality acts as a counterbalance. Kudryavka is embarrassed by her lack of English skills, exacerbated by having constantly moved from country to country during her childhood. Her two dogs Strelka and Belka are sources of comfort for her.