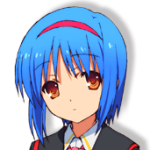 Vital Character Statistics
Name: Mio Nishizono
Series: Little Busters!
Ranking: 5.00 Vote Count: 6
Last vote: July 20, 2020 12:28:10 PM MST with a vote of 8
Detailed Statistics
Ranking Position:
Serieswide: 9th of 9 characters
Sitewide: 1,752nd of 2,571 characters
Vote Count Position:
Serieswide: 7th of 9 characters
Sitewide: 744th of 2,571 characters
Database Presence:
Entered in database:
May 12, 2013 11:02:30 AM MST (9 years, 6 months, 17 days)
Description
Mio is one of Riki's classmates. A quiet girl with an aura of existence so weak that her classmates frequently forget about her, she spends most of her time alone, reading under a tree. Never seen outside without her parasol, she eschews contact with others as much as possible and shows little emotion except for reticence and solemnity.