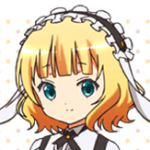 Vital Character Statistics
Name: Sharo Kirima
Series: Is the Order a Rabbit?
Ranking: 8.14 Vote Count: 133
Last vote: May 12, 2019 9:40:01 PM MST with a vote of 10
Detailed Statistics
Ranking Position:
Serieswide: 2nd of 9 characters
Sitewide: 206th of 2,571 characters
Vote Count Position:
Serieswide: 1st of 9 characters
Sitewide: 150th of 2,571 characters
Database Presence:
Entered in database:
July 1, 2014 11:45:56 AM MST (5 years, 9 months, 5 days)
Description
Sharo is Chiya's childhood friend. Her intelligence has resulted in a scholarship to the same school Rize attends, and her knowledge of and taste in fine china make Cocoa and company look upon her as a refined young lady. Despite the way she usually carries herself, Sharo is easily rattled and can immediately shrink in bashfulness, particularly in relation to something Rize, the upperclassman she greatly admires, says or does.