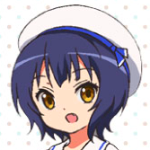 Vital Character Statistics
Name: Maya Jouga
Series: Is the Order a Rabbit?
Ranking: 6.67 Vote Count: 3
Last vote: December 2, 2018 1:46:30 AM MST with a vote of 10
Detailed Statistics
Ranking Position:
Serieswide: 8th of 9 characters
Sitewide: 933rd of 2,571 characters
Vote Count Position:
Serieswide: 7th of 9 characters
Sitewide: 1,334th of 2,571 characters
Database Presence:
Entered in database:
July 1, 2014 11:45:56 AM MST (7 years, 6 months, 25 days)
Description
Maya is a junior high school girl and one of Chino's friends. Usually paired with fellow friend and classmate Megumi, she is full of energy and enthusiasm, in contrast to Megumi's more composed personality. Her friendship with Megumi is close enough that Megumi seems able to read Maya's mind. Maya looks up to Rize and wants to learn more about action and combat.