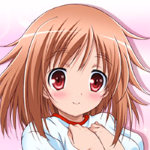 Vital Character Statistics
Name: Airi Kashii
Series: Ro-Kyu-Bu!
Ranking: 8.00 Vote Count: 1
Last vote: October 13, 2016 4:49:42 PM MST with a vote of 8
Detailed Statistics
Ranking Position:
Serieswide: 1st of 13 characters
Sitewide: 228th of 2,571 characters
Vote Count Position:
Serieswide: 2nd of 13 characters
Sitewide: 2,277th of 2,571 characters
Database Presence:
Entered in database:
October 13, 2016 4:44:33 PM MST (3 years, 4 months, 10 days)
Description
Airi is a sixth grader and the center on the girls' basketball team. Her body having developed more rapidly than the other girls', she has developed a complex about her height and prefers to be perceived as small. Though she enjoys basketball, her timid nature makes it difficult for her to properly handle the ball or defend. Despite her difficulties, Airi is incredibly supportive of her teammates and works hard to improve herself.