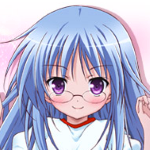 Vital Character Statistics
Name: Saki Nagatsuka
Series: Ro-Kyu-Bu!
Ranking: 8.00 Vote Count: 1
Last vote: October 13, 2016 4:48:49 PM MST with a vote of 8
Detailed Statistics
Ranking Position:
Serieswide: 1st of 13 characters
Sitewide: 229th of 2,571 characters
Vote Count Position:
Serieswide: 2nd of 13 characters
Sitewide: 2,278th of 2,571 characters
Database Presence:
Entered in database:
October 13, 2016 4:44:33 PM MST (3 years, 5 months, 19 days)
Description
Saki is a sixth grader and a guard on the girl's basketball team. As an individual gifted with analytical skills, she excels as a point guard who drives and directs the offense. Though Saki's level-headed personality tends to keep Maho's emotions in check, Saki's own emotions tend to run wild when in the realm of food preparation, as working at her father's okonomiyaki shop has given her very strict and particular opinions on cooking.