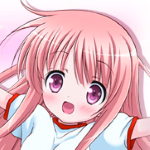 Vital Character Statistics
Name: Hinata Hakamada
Series: Ro-Kyu-Bu!
Ranking: 8.00 Vote Count: 1
Last vote: October 13, 2016 4:49:32 PM MST with a vote of 8
Detailed Statistics
Ranking Position:
Serieswide: 1st of 13 characters
Sitewide: 213th of 2,571 characters
Vote Count Position:
Serieswide: 2nd of 13 characters
Sitewide: 2,264th of 2,571 characters
Database Presence:
Entered in database:
October 13, 2016 4:44:33 PM MST (2 years, 7 months, 8 days)
Description
Hinata is a sixth grader and small forward on the girls' basketball team. Petite even for a girl her age, she struggles to keep up with basketball's physical demands, but has too much fun and loves the sport too much to stop. Though Hinata can come across as slow or an airhead, she is very much aware of her current limitations and wants to get better at basketball, both for herself and for her friends and teammates.