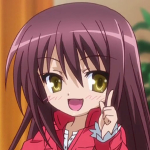 Vital Character Statistics
Name: Mihoshi Takamura
Series: Ro-Kyu-Bu!
Ranking: 7.00 Vote Count: 1
Last vote: October 13, 2016 4:49:08 PM MST with a vote of 7
Detailed Statistics
Ranking Position:
Serieswide: 6th of 13 characters
Sitewide: 615th of 2,571 characters
Vote Count Position:
Serieswide: 2nd of 13 characters
Sitewide: 2,267th of 2,571 characters
Database Presence:
Entered in database:
October 13, 2016 4:44:33 PM MST (2 years, 8 months, 11 days)
Description
Mihoshi is Subaru's aunt and the advisor of the girls' basketball team. Having accepted the offer despite knowing nothing about the sport, she convinces Subaru to temporarily coach the team. As a woman petite enough to be mistaken for a schoolgirl, Mihoshi delights in teasing Subaru about being around younger girls so much, but her devilish and competitive personality puts her firmly on Subaru and the team's side when competitions begin.