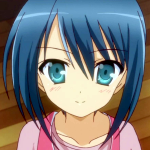 Vital Character Statistics
Name: Manaka Nobidome
Series: Ro-Kyu-Bu!
Ranking: 7.00 Vote Count: 1
Last vote: October 13, 2016 4:49:18 PM MST with a vote of 7
Detailed Statistics
Ranking Position:
Serieswide: 6th of 13 characters
Sitewide: 615th of 2,571 characters
Vote Count Position:
Serieswide: 2nd of 13 characters
Sitewide: 2,264th of 2,571 characters
Database Presence:
Entered in database:
October 13, 2016 4:44:33 PM MST (2 years, 7 months, 8 days)
Description
Manaka is a second year student at Suzuridani Girls High. Having recently been injured, she has accepted the position of the youth team's temporary coach. Unlike her strict and businesslike older sister Hatsue, Manaka is an open and accommodating person who is glad to help Subaru and the girls orient themselves to Suzuridani.