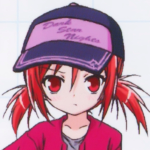 Vital Character Statistics
Name: Rena Ashihara
Series: Ro-Kyu-Bu!
Ranking: 6.00 Vote Count: 1
Last vote: October 13, 2016 4:48:55 PM MST with a vote of 6
Detailed Statistics
Ranking Position:
Serieswide: 11th of 13 characters
Sitewide: 1,169th of 2,571 characters
Vote Count Position:
Serieswide: 2nd of 13 characters
Sitewide: 2,264th of 2,571 characters
Database Presence:
Entered in database:
October 13, 2016 4:44:33 PM MST (2 years, 7 months, 8 days)
Description
Appearing in season 2, Rena is a student on the basketball team at Suzuridani. Frequently seen with a lollipop in her mouth, she is confrontational, rude, and so confident in her basketball skills that she tends to challenge others on the spot to prove it. Rena quickly makes enemies of Hiiragi and Tsubaki and intends to do the same with Keishin next.