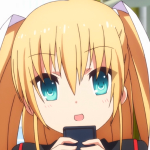 Vital Character Statistics
Name: Saya Tokido
Series: Little Busters!
Ranking: 8.00 Vote Count: 3
Last vote: September 29, 2018 10:24:37 AM MST with a vote of 9
Detailed Statistics
Ranking Position:
Serieswide: 2nd of 9 characters
Sitewide: 251st of 2,571 characters
Vote Count Position:
Serieswide: 9th of 9 characters
Sitewide: 1,337th of 2,571 characters
Database Presence:
Entered in database:
February 1, 2017 5:06:27 PM MST (6 years, 1 month, 27 days)
Description
Appearing in Little Busters! EX, Saya is a student at Riki's school. Though seemingly a normal girl by day, she claims to be a spy who fights a group called the Darkness Executives in pursuit of a treasure. After an outwardly innocent introduction, she quickly draws Riki into her struggle. Saya tends to alternate her personality between cool and battle-hardened warrior and slightly spastic schoolgirl at the drop of a hat.