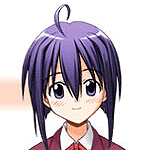 Vital Character Statistics
Name: Nodoka Miyazaki
Series: Negima!
Ranking: 5.67 Vote Count: 9
Last vote: September 15, 2015 6:41:43 PM MST with a vote of 4
Detailed Statistics
Ranking Position:
Serieswide: 10th of 14 characters
Sitewide: 1,504th of 2,571 characters
Vote Count Position:
Serieswide: 3rd of 14 characters
Sitewide: 524th of 2,571 characters
Database Presence:
Entered in database:
June 24, 2006 2:36:00 PM MST (15 years, 5 months, 13 days)
Description
Nodoka, the shy girl in the Library Club, has a strong crush on Negi but can't bring herself to tell him. Her hair intentionally obscures her beautiful face - something that her friend Yue finds a shame. Her grades may be top notch, but her underdeveloped social skills are put to the test when Negi arrives.