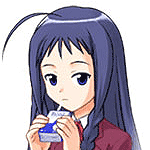 Vital Character Statistics
Name: Yue Ayase
Series: Negima!
Ranking: 5.75 Vote Count: 4
Last vote: February 8, 2014 7:13:12 PM MST with a vote of 8
Detailed Statistics
Ranking Position:
Serieswide: 9th of 14 characters
Sitewide: 1,470th of 2,571 characters
Vote Count Position:
Serieswide: 6th of 14 characters
Sitewide: 1,054th of 2,571 characters
Database Presence:
Entered in database:
June 24, 2006 2:36:00 PM MST (15 years, 12 months, 4 days)
Description
Yue is a member of the Library Club and Nodoka's best friend. She supports Nodoka's feelings for Negi and does what she can to make Nodoka tell him, usually to Nodoka's dismay. Despite her constantly dour expression that suggests apathy, Yue cares for her friends and wants them to be happy.