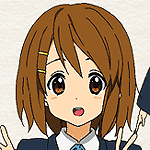 Vital Character Statistics
Name: Yui Hirasawa
Series: K-ON!
Ranking: 8.33 Vote Count: 100
Last vote: August 17, 2020 1:52:06 AM MST with a vote of 10
Detailed Statistics
Ranking Position:
Serieswide: 1st of 9 characters
Sitewide: 162nd of 2,571 characters
Vote Count Position:
Serieswide: 2nd of 9 characters
Sitewide: 164th of 2,571 characters
Database Presence:
Entered in database:
July 26, 2009 12:14:00 PM MST (11 years, 9 months, 15 days)
Description
Yui is a high school freshman who stumbles upon the light music club at school and decides to join despite knowing nothing about music or playing an instrument. She tends to have trouble concentrating on more than one thing at a time and at first lacks the resolve to do much in the club, but eventually begins to commit herself to learning how to play the guitar. Yui is incredibly affectionate with her friends and thinks nothing of hugging or snuggling them.