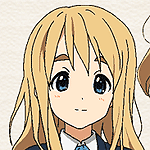 Vital Character Statistics
Name: Tsumugi Kotobuki
Series: K-ON!
Ranking: 7.24 Vote Count: 41
Last vote: June 8, 2021 6:50:51 PM MST with a vote of 1
Detailed Statistics
Ranking Position:
Serieswide: 4th of 9 characters
Sitewide: 609th of 2,571 characters
Vote Count Position:
Serieswide: 5th of 9 characters
Sitewide: 244th of 2,571 characters
Database Presence:
Entered in database:
July 26, 2009 12:14:00 PM MST (12 years, 9 months, 25 days)
Description
Tsumugi is a member of the light music club and plays keyboard for the band. Tsumugi, or 'Mugi' as her friends call her, is the most motherly of the group. She loves the idea of friends playing together and bonding, and she brings tea and sweets to the club for the members' enjoyment. Tsumugi's wealth and influence both related to music and otherwise often startle her friends.