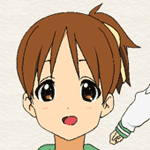 Vital Character Statistics
Name: Ui Hirasawa
Series: K-ON!
Ranking: 6.61 Vote Count: 23
Last vote: June 8, 2021 6:51:40 PM MST with a vote of 1
Detailed Statistics
Ranking Position:
Serieswide: 7th of 9 characters
Sitewide: 971st of 2,571 characters
Vote Count Position:
Serieswide: 6th of 9 characters
Sitewide: 305th of 2,571 characters
Database Presence:
Entered in database:
July 26, 2009 12:14:00 PM MST (12 years, 5 months, 31 days)
Description
Ui is Yui's younger sister and Azusa's friend. Though she is younger than her sister, Ui is the more responsible one of the two, preparing meals and waking Yui up for school. Ui and Yui are very close and share in each other's happiness.