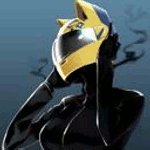 Vital Character Statistics
Name: Celty Sturluson
Series: Durarara!!
Ranking: 8.44 Vote Count: 259
Last vote: April 14, 2019 4:17:00 PM MST with a vote of 1
Detailed Statistics
Ranking Position:
Serieswide: 2nd of 6 characters
Sitewide: 112th of 2,571 characters
Vote Count Position:
Serieswide: 1st of 6 characters
Sitewide: 73rd of 2,571 characters
Database Presence:
Entered in database:
August 23, 2010 11:21:40 AM MST (9 years, 3 months, 17 days)
Description
Celty is a Dullahan, a headless horseman from Celtic folklore. Her search for her lost head, and the memories contained therein, brings her to Ikebukuro, where she lives with her friend Shinra. In order to blend in, she transforms her horse into a motorcycle, becoming an urban legend known as the black biker. She uses a PDA to communicate, and wears a yellow motorcycle helmet to hide her headless nature. She is able to form the shadows that make up her body into a variety of things, including scythes and her trademark black riding suit.