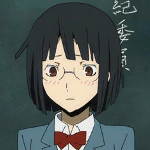 Vital Character Statistics
Name: Anri Sonohara
Series: Durarara!!
Ranking: 8.46 Vote Count: 257
Last vote: April 14, 2019 7:37:11 AM MST with a vote of 1
Detailed Statistics
Ranking Position:
Serieswide: 1st of 6 characters
Sitewide: 109th of 2,571 characters
Vote Count Position:
Serieswide: 2nd of 6 characters
Sitewide: 88th of 2,571 characters
Database Presence:
Entered in database:
August 23, 2010 11:21:40 AM MST (12 years, 3 months, 5 days)
Description
Sonohara attends the highschool in Iekebukuro along with Kida and Mikado, quickly becoming friends with the two of them. She becomes class representative alongside Mikado. Her cute appearance, glasses, and big breasts make her a favorite among the boys in her class. She remains quiet and distant in front of Kida's teasing and Mikado's awkward flirting, as if her mind is elsewhere.