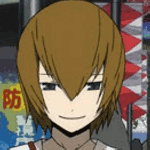 Vital Character Statistics
Name: Saki Mikajima
Series: Durarara!!
Ranking: 5.00 Vote Count: 6
Last vote: March 12, 2018 9:17:31 AM MST with a vote of 7
Detailed Statistics
Ranking Position:
Serieswide: 5th of 6 characters
Sitewide: 1,753rd of 2,571 characters
Vote Count Position:
Serieswide: 6th of 6 characters
Sitewide: 741st of 2,571 characters
Database Presence:
Entered in database:
August 23, 2010 11:21:40 AM MST (11 years, 1 month, 5 days)
Description
Appearing later in the series, Saki Mikajima is a middle schooler who meets and develops a relationship with a young Masaomi Kida. She is very well acquainted with Orihara Izaya, but the specifics of their relationship remain unknown. Am unfortunate incident causes her to be hospitalized, leading Kida to leave his old life and seek a normal life with normal friends like Ryugamine Mikado.