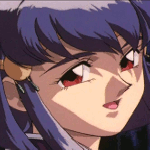 Vital Character Statistics
Name: Ayeka Jurai
Series: Tenchi Muyo!
Ranking: 5.00 Vote Count: 5
Last vote: April 8, 2016 9:39:21 PM MST with a vote of 8
Detailed Statistics
Ranking Position:
Serieswide: 9th of 11 characters
Sitewide: 1,754th of 2,571 characters
Vote Count Position:
Serieswide: 2nd of 11 characters
Sitewide: 878th of 2,571 characters
Database Presence:
Entered in database:
August 26, 2010 5:21:36 PM MST (13 years, 3 months, 6 days)
Description
Ayeka is the crown princess of Planet Jurai, sworn to defend her people from all enemies. Upon coming to Earth, she very quickly falls in love with Tenchi. She possesses her own spaceship, an array of magical abilities, and two guardians encased in wooden statues which aid her in battle. Being of noble birth, she is very aristocratic and proper in her dealings with people, often to the point of being snobbish. She has an intense rivalry with Ryoko for the affections of Tenchi, and the two fight often.