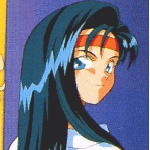 Vital Character Statistics
Name: Kiyone Makibi
Series: Tenchi Muyo!
Ranking: 5.60 Vote Count: 5
Last vote: November 15, 2014 6:59:49 PM MST with a vote of 7
Detailed Statistics
Ranking Position:
Serieswide: 6th of 11 characters
Sitewide: 1,540th of 2,571 characters
Vote Count Position:
Serieswide: 2nd of 11 characters
Sitewide: 869th of 2,571 characters
Database Presence:
Entered in database:
August 26, 2010 5:21:36 PM MST (11 years, 1 month, 2 days)
Description
First appearing in Tenchi Universe, Kiyone is a member of the galaxy police, and much to her disappointment, is frequently partnered with Mihoshi. Unlike her partner, she takes her job very seriously, desiring to rise in the ranks of the police force and gain the respect of her peers. Mihoshi's blundering often nullifies her chances for advancement, much to her annoyance.