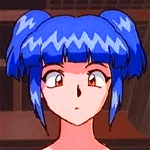 Vital Character Statistics
Name: Mayuka
Series: Tenchi Muyo!
Ranking: 5.00 Vote Count: 4
Last vote: December 17, 2013 11:11:27 PM MST with a vote of 1
Detailed Statistics
Ranking Position:
Serieswide: 9th of 11 characters
Sitewide: 1,752nd of 2,571 characters
Vote Count Position:
Serieswide: 6th of 11 characters
Sitewide: 1,055th of 2,571 characters
Database Presence:
Entered in database:
August 26, 2010 5:21:36 PM MST (12 years, 3 months, 2 days)
Description
Appearing in Tenchi the Movie 2: The Daughter of Darkness, Mayuka appears before Tenchi claiming to be his daughter. Naturally, this creates no shortage of chaos and fighting amongst the harem at the Masaki home. Mayuko is very possessive of Tenchi and has no hesitation in annoying both Ryoko and Ayeka.