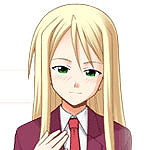 Vital Character Statistics
Name: Ayaka Yukihiro
Series: Negima!
Ranking: 3.33 Vote Count: 3
Last vote: December 15, 2015 9:18:31 AM MST with a vote of 5
Detailed Statistics
Ranking Position:
Serieswide: 14th of 14 characters
Sitewide: 2,414th of 2,571 characters
Vote Count Position:
Serieswide: 9th of 14 characters
Sitewide: 1,336th of 2,571 characters
Database Presence:
Entered in database:
June 24, 2006 2:36:00 PM MST (15 years, 12 months, 4 days)
Description
Ayaka is the class rep for Negi's class. She is by far the girl most infatuated with Negi and is often daring in her attempts to get him. Ayaka has a long-running feud with Asuna despite them both being very good friends. Her haughtiness and self-assured nature irritates Asuna to no end.